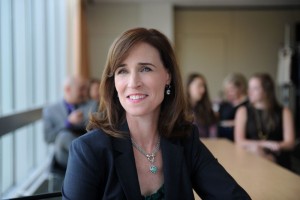 Adelphi University President Christine M. Riordan, Ph.D., is an internationally recognized expert in leadership development, diversity and inclusion   and team performance. With over 8,000 undergraduate and graduate students, Adelphi is a nationally ranked, doctoral research university with a strong combination of academic programs and research in the liberal arts, STEM, business, education, and healthcare-related fields.
Since beginning her appointment as Adelphi University's 10th president in July 2015, she has worked with colleagues from across the University to establish priorities in enrollment and revenue generation, campus engagement, and diversity and inclusion. With Dr. Riordan's leadership, the University has launched a broader regional domestic recruiting strategy and expanded its international recruitment through a partnership with Shorelight Education.
To gain a deeper understanding of the University and to establish opportunities for future enhancements, Dr. Riordan brought together more than 1,000 members of the Adelphi community as part of a listening tour. This work laid the foundation of a comprehensive strategic planning process focusing on key priority areas such as student success, academic excellence and creating a diverse and inclusive climate. Dr. Riordan was honored as one of the 2015 Women of Distinction by the Family and Children's Association, a nonprofit organization helping disadvantaged individuals and families on Long Island.
Prior to beginning her appointment as Adelphi's 10th president on July 1, 2015, Dr. Riordan served as provost at the University of Kentucky (UK), which has more than 30,000 students, 19,000 full- and part-time employees and a budget of $3 billion. Responsible for supporting and advancing academic programs, teaching and scholarship at the University of Kentucky, she oversaw all of UK's academic operations. This oversight included 16 colleges, an extensive library system, undergraduate education, graduate education, enrollment management, information technology, student support services, international programs, institutional research and institutional effectiveness. Dr. Riordan led, with a team, a number of initiatives at UK, including the expansion of the residential live-and-learn programs from 13 to 19; an increase in enrollment in these programs from 874 to more than 1,700 students; the implementation of new admissions marketing techniques and record enrollment growth for incoming students; the development of a focused and coordinated approach to retention across campus; the expansion of global activities, with the addition of the Office for China Initiatives; and the refinement of a new responsibility-centered financial and budget system.
For five years, Dr. Riordan served as dean of the Daniels College of Business at the University of Denver (DU). In this role, she led a business operation with more than $86 million in revenue and a global network of over 33,000 faculty, staff, students and alumni. In collaboration with the university, Dr. Riordan and her team built a fundraising system for the college and raised more than $14 million a year in private and corporate funds. They increased the college's endowment by more than 50 percent, from $70 million (2008) to over $110 million (2013). They also raised more than $87 million in a funding campaign for the college. Bloomberg Businessweek, U.S. News & World Report and Financial Times ranked Daniels, while under Dr. Riordan's leadership, among the top business schools in the world. The Aspen Institute's Beyond Grey Pinstripes consistently ranked Daniels in the top five among business schools for its focus on ethics. Moreover, during Dr. Riordan's tenure, Daniels created the Institute for Enterprise Ethics, a corporate partners program; a highly selective one-year M.B.A. program; a new professional M.B.A. program; and the Inclusive Excellence Case Competition.
Dr. Riordan consults regularly with organizations and is a frequent speaker on leadership, strategy, diversity and inclusion, and team performance. Dr. Riordan serves on the Board of Directors for RE/MAX Holdings, Inc. (NYSE:RMAX) and is a member of the audit committee. (RE/MAX was founded in 1973 by Dave and Gail Liniger, with an innovative, entrepreneurial culture affording its real estate agents and franchisees the flexibility to operate their businesses with great independence. Over 100,000 agents provide RE/MAX a global reach of more than 95 countries.)
President Riordan is on the board of directors of the National Chorale, New York's premier professional choral company, and the Long Island Association (LIA), the leading business organization in the Long Island region. She is also a member of the Long Island Regional Advisory Council on Higher Education (LIRACHE) and is on the President's Advisory Council at the Georgia Institute of Technology. In the past, Dr. Riordan served on many nonprofit boards of directors, such as Mile High United Way and Beta Gamma Sigma, an international honor society, and she was President of the Southern Management Association..
President Dr. Riordan is married to Robert (Bob) D. Gatewood, Ph.D., author of Human Resource Selection (eighth edition) and professor emeritus at the University of Georgia. They have two teenagers, Mikaela and Mason, and an Olde English Bulldogge named Georgia. Dr. Riordan enjoys running, biking, lifting weights and reading. She received her Ph.D. in organizational behavior and M.B.A. from Georgia State University and a bachelor's degree in textile engineering (now called materials science and engineering) from the Georgia Institute of Technology.